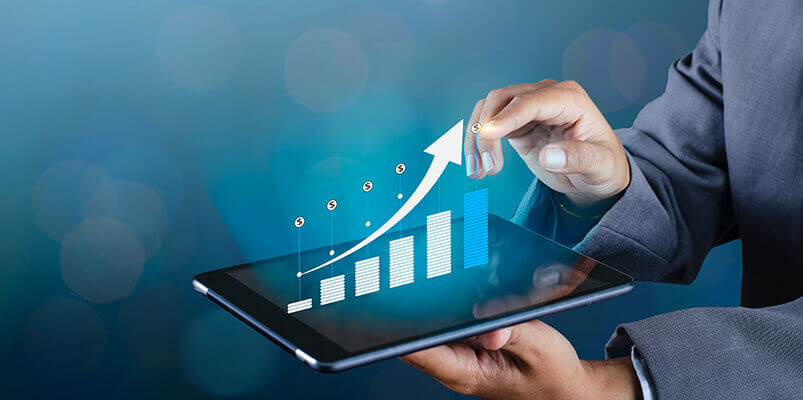 It never goes without saying that businesses need customers, and to bring in the right customer, you will need to implement the right marketing strategies. But as the customers evolve, your marketing landscape is also going to expand, and you will have to spend more time and put in more effort catering to every one of them. Reasoning it out, it is pretty much evident you are going to waste quite a bit of your precious time, which could have been put to better use. And, one of those best ways to have you spend lesser time on such tasks is by - AUTOMATION. With every facet around the globe going the automated way, it is apparent you will have to give your digital marketing services the prominence of automation, to make the entire marketing aspect a walk in the park.
The Digital Side Of Marketing
Gone are those dark days of advertising, where marketing was limited to creativity, limited by data analysis fuelled by intuition, and the primary modes included newspapers, television, radio, hoardings, etc. Unlike the times when technology-based stuff was found only in sci-fi movies, almost everything inhabited now on the planet is run digitally. The rapid augmentation in technology has paved the way to better creative ideas, and so has increased the competition across almost every industry, hence, with the right marketing strategies, the ball could be in your court.
It is a necessity nowadays for modern marketers to master the art of marketing. Businesses now are at that level of competition where they cannot get disrupted but need to create their own stand in the market, in a unique way. If there is no innovation, there might not be any existence either. Owing to these facts, marketers need to blend the art of marketing with the science of digital technology to master the challenges that give their businesses a competitive edge and a much global reach. The emerging technology and its software applications have found its use in every domain of business systems. Be it in the marketing field, human resources, or the sales CRM, digital technology and automation have become the voice of every field.
With the world going savvy for digital technology, it is mandatory for the present-day entrepreneur to stay on par with the new advancements for existing in the market. The scope of technology is vast, and so are the features of digital marketing. Automation technology for the digital marketing domain found its roots from the email marketing services, but with progressing tech and tools, it can now be implemented for a few other sub-species of the
digital marketing services
like paid advertising, social media services, and more. Since every facet around the globe is going the automated way, it is apparent you will have to give your marketing strategies the prominence of automation, to make the entire marketing aspect a walk in the park.
Why Choose Marketing Automation?
Keeping up with every move of your business's marketing task, and targeting what you need for your business could be exhausting, chaotic, and time-consuming. Implementing the right automation tools could save you a lot of time, make your marketing tasks a more welcome job, and give you more time to focus on other ways of bringing in revenue for your business. If you are a techno-marketer who has not heard of or is not acquainted with automation techniques and tools, you are probably living on an entirely different planet. Automation tools & techniques have been on the radar of almost every techno-marketer for quite some time now, and using these automated workflows have made marketing less of a painful job.
With Marketing Automation comes bigger promised things like improved leads, enhanced conversions, more sales, and better business prospects, all with relatively lesser work. If you are someone who gets convinced by numbers, here are a couple of reports that speak volumes about how automation could help -
Survey reports show businesses that have implemented the automated marketing techniques have seen a 14% increase in sales productivity with almost 12% decrease in the marketing expenses & efforts.
As per new research, by 2020, almost 44% of the experts are convinced that automation will turn out to be one of those substantial skills that the techno-marketers should be abreast of, and so, it is essential that they start reskilling themselves and their employees, right away.
According to a Gleanster research report, at least 79% of the organizations that are performing well in the market have been implementing the marketing automation techniques for 2 or more years. As claimed by a Forrester Research report, there has been a 10% increase in the sales-pipeline of the B2B marketers who put into action the marketing automation techniques. Affirming the importance of automation is a VB Insight report that says 80% of the users who used marketing automation techniques saw an increase in their leads, with 77% of them having enhanced conversions. Need more reasons to be convinced that automation can create miracles in your marketing efforts?
INTEGRATING AUTOMATION TECHNIQUES WITH DIGITAL MARKETING SOLUTIONS - If you are convinced by now that automation marketing could be beneficial to you, it is time to think about how well you can integrate it with your regular activities to bring in spectacular results for your business. It is evident that the modern marketer is no more into making intuition-based judgments, but counts on making decisions on the basis of software data and analysis results. With automation marketing techniques, you can sit back and get the software do most of the tasks at the right time, and save you time to think about other better marketing strategies to improve your business.
HELP REDIRECTING YOUR FOCUS ON NEWER STRATEGIES - The ultimate purpose of automating any function is to ease the task and to increase its efficiency. Since marketing calls for a lot of time and effort from the organization, it becomes essential to put the resources to use in the right way. With automation, you get to free up your time which can be spent in a more productive way like to plan new strategies and other business development-related endeavors. By automating your processes, you can take care of and manage your digital marketing approaches like market research, client interaction & communication, handling your social media accounts, etc., which do not need a lot of human involvement. And so, you can save your time, increase your productivity, and improve your business prospects.
TO GATHER COMPREHENSIBLE ANALYTICS - Every automation software does the job of collecting data in regard to the customers, leads, sales, campaign progress, etc., and analyze them all. With this information, marketers can assess the efficiency of their campaigns, and make any changes, if needed, accordingly so that it works better for their future campaigns. Another way of using automation technology is by performing an automated A/B testing with which you can know the real-time optimized results. You can track your visitors and the prospective customer's IP address, their on-page time, the pages that they visit, the actions they make, gauge your best leads, generate lead scores according to the actions they take, etc., and deliver the relevant outcomes depending on user behavior. So, in all ways, the results of automated analytics give enough time to understand, learn, and improve your marketing processes.
TARGETING EMAIL CAMPAIGNS – Email marketing services have become one of those essential online marketing services that are important to nurture your leads or to maintain an active customer relationship. Email automation is probably the easiest way to meet these demands as they provide benefits of performing an assured communication at the scheduled time, without much human involvement. The rules and setup are made once, and the entire task will be followed up in a timely manner, as per the requirement. There are many email automation tools in the market, and most come with templates, like the ones that come for creating landing pages, that can be used to set up your email marketing campaign, which will save much more time, especially when you have to launch multiple campaigns. However, you need to make sure that the emails do not explode to your entire contacts list at once. You can segregate your audience according to their interests, and send out customized emails accordingly. This not only saves your time but is also known to improve your CTR.
OUTSOURCE YOUR AUTOMATION MARKETING WITH THE RIGHT TOO - According to a survey report by Ascend2, marketing automation is outsourced by almost 63% of the businesses, either for full-fledged marketing campaigns or for a section of the strategic planning. Getting the best-fitted automation program is presumably the most crucial step, and you can get help from a reputable digital marketing agency. There are many automation tools in the online marketplace that offer various features, and come at different prices. You need to analyze details like your marketing requirements, your budget, your active lead numbers, and other parameters before you finalize any automation tool. We give a quick peek about the 5 most popular marketing automation tools that offer many essential features, at a reasonable price.
AdRoll - AdRoll is that automation tool that helps you set up automated ad campaigns by integrating your marketing tools & platforms with cross-device capabilities, to help reach out to a vast network of target audiences from across top websites, social media networks, etc., allowing a customized approach to the users. Also, AdRoll provides attributes like real-time, transparent insights on the progress and performance of the marketing channels and campaigns, along with optimization & conversion reports. The best part is that AdRoll offers customized budgeting options where you can control your ad spends.
Marketo - It is a cloud-based marketing software that allows driving the revenue for small, medium, & large businesses with features like mobile marketing, lead management, etc., to not just build customer relationships, but also keep them strong & sustain them well. Offering a free-trial period to know if it helps you before committing to it, Marketo is one of those automation tools that provide many features to allow efficient and automatic nurturing of leads.
HubSpot – It is a popular inbound-marketing tool that allows you to generate leads, convert the outbound leads to inbound ones, and auto-manage your pipeline. Offering a full stack of tools that are apt for marketing, sales, and CRM aspects, particularly for content marketing purposes, HubSpot works even better when these products are used together. Apart from getting a Salesforce integration for specific plans, you can also gain A/B Testing for CTA's & emails, report attributes, get smart content, custom-event reporting & automation, lead scoring, event-based segmentation, and a lot more.
MailChimp - Handing out brilliant email automation features, it is hard for the techno-marketers to not fall in love with MailChimp. In addition to performing regular email automation activities like creating personalized emails, targeting user behavior, and monitoring their engagement, MailChimp also allows triggering emails depending on actions like website activity, etc., all at a justifiable price.
GetResponse - It is considered to be one of the most versatile automated online marketing platforms. Right from creating & delivering responsive & compelling emails, automating the customer's journey, building & hosting landing pages that are high-converting, to offering complete webinar solutions to increase the conversion rates.
In short, marketing automation offers techno-marketers an amazing opportunity wherein they can ease their jobs, and at the same time reduce their marketing costs, improve the efficiency of their digital marketing strategies, and at the same time, enhance their customer experience. At starting, going aboard with the marketing automation technique might seem intimidating for many, however, with time, & with the right assistance, it is much convenient and rewarding. By using the right tech and tools with the right strategy, you could do wonders for your marketing efforts. The online market is flooding with many automation tools that could help in easing your different digital marketing solutions, and the responsibility is on you to choose the one that is most apt for you. So, if you are planning on growing your business digitally, and are looking to stay on par with the current technology, it is time to adapt marketing automation technologies.