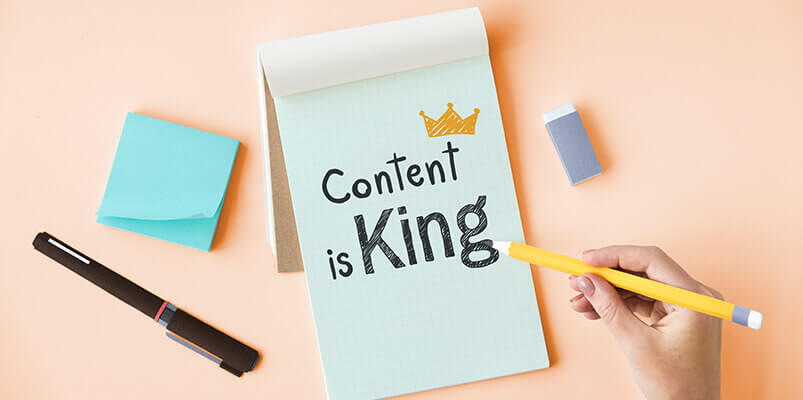 For a long time, pinning notes was all about putting up the sticky notes on your fridge, on your kitchen planner, or on the corkboard at your home or work. But today, pinning is the virtual activity where you can pin the images of your choice on the digital platform, 'Pinterest'. Pinterest is probably the most less-used platform used for content marketing services in the online world, and it does not seem to be on the strategy list of many online marketers either. Although it is the road less traveled, reports say that Pinterest does contribute appreciably towards bringing in potential web traffic.
At a time when the popular notion of content marketing seemed limited to promoting blogs, articles, and other content-related stuff in a boring way, Pinterest took the bold step of lining up colorful boxes, more often called as pins. But still, it hasn't gained much popularity because most of the popular marketing experts are either not present or are not very active on this platform. And, a few techno-marketers feel that it may take a lot of time to have the work running on Pinterest. On the contrary, Pinterest has hit it big with the bloggers, and there are many who are literally making a living out of it.
So, if you are implementing digital marketing solutions and are into content marketing and are looking for a great place to start with apart from social media, Pinterest could be a good choice. However, there are a couple of basic pointers you should know and which should be taken care of in order to see appreciable results. So, before you start off with it, have a look at a few fundamentals you need to know about content marketing on Pinterest.
Fill Out Your Complete Profile – This pointer is not specifically aimed at Pinterest alone. It is essential to have your profile filled in completely along with an in-detail Bio, a legitimate profile picture, a gravatar wherever needed, a URL link if required, etc. Just creating an account with your name on Pinterest, or for that matter, on any platform is not going to help you a bit. Unless you provide details about yourself, people are not going to trust you. So, for the users to know more, you will have to capture their trust by putting a proper picture or your company's logo, fill in a proper bio that gives information about you, your company, or your work.
Put Pinterest-Compatible Images – Like every platform, even Pinterest has its own image size and specifications. So, if you want your content to be published on this platform, it is essential that you put up an image of the right size for it to work well. Since Pinterest is a network that works based on visual appeal, it is essential that your images serve the purpose. If you put up awful or irrelevant images, it is not going to work out. There are a lot of online tools like Canva that help in creating beautiful images that are acceptable by Pinterest. Having a text overlay on the images will not just help in getting more repins, but will also bring clicks driving higher web traffic.
Connect Your Business – If you have a business website and want it to gain recognition on Pinterest, you will have to connect your website with your Pinterest account. Pinterest has different terms for business accounts and personal accounts. With a business account, you can easily track all the analytics of your pins and Pinterest activities. By connecting this business account with your website, your profile picture will be displayed on every pin of yours, giving better brand exposure to the users.
Choose The Right Pins – Enabling rich pins will give you an opportunity to add a lot more information about you, your business, and your work. When rich pins are enabled, every pin in your account will carry all the information that you put up on your posts. Broadly, there are 4 different types of rich pins in Pinterest – Article pins, Product pins, App Install pins, & Recipe pins. Most of the bloggers prefer the article pins which allow providing more information about your website, the author, etc.
Search The Right Way – Although Pinterest is considered to be a social networking platform, it doubles up like a search engine many times. Search terms & phrases are typed to search for information, and the Smart Feed feature will decide on what relevant information should be shown to the user. The show results will depend majorly on your interests, the people you are following, the topics you are following, and such related content. It is best to use the keywords that are simple and describe well about your board.
Pinterest is a place where there is rarely or absolutely no communication. Although there has been an exponential rise in the number of users, content marketing on Pinterest still needs to gain a lot of exposure. Following the above tips along with putting up a Pinterest share button, using a proper Pinterest username, putting a keyword rich description, and a lot more of such things could help you establish a stronger base on Pinterest. At BOXFinity, a well-known digital marketing agency in Hyderabad, our expert content writers create unique and engaging content, and our techno-marketers will strategize to help build your brand exposure and bring in relevant web traffic to your website for an overall improvement of your business prospects. So, get started to generate traffic for your website from Pinterest.