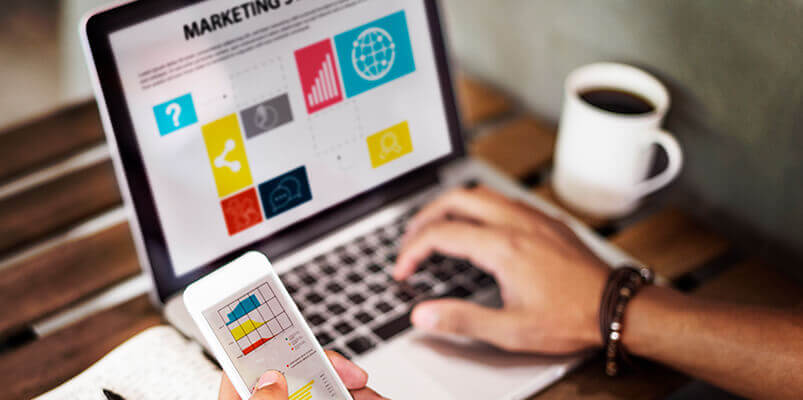 Until a few decades ago, marketing was all about putting up advertisements for your business brand on the billboards, by placing ads on the radio or TV, by distributing pamphlets, making posters, etc. But now, almost everything in the world seems to be digitalizing, and so are the marketing strategies. The businesses have now started to focus more on promoting their brand on various platforms like social media, on search engines, on emails, etc. Reports show that in the past half decade, the shift has moved from traditional advertising to the digital marketing.
The average amount spent on digital marketing has been increasing rapidly year after year. If you are having a startup, availing proper digital marketing services could help well in growing your venture. But the greatest concern would be how much money you should be spending on your digital marketing. The biggest Catch-22 that most startups and small business probably face is that you need to grow your company to make more revenue, but you start with no money. And so, many startups hesitate to pitch-in for the modern digital marketing trends.
People who are new to digital marketing do not have much idea about what happens behind the scenes. They might consider it as an experiment where all their money goes in without knowing if there will be a proper ROI or not. With the startups not having enough funds to invest in blind spots, they might not readily spend a relatively huge amount on marketing. At BOXFinity, one of the top lead generation companies in Hyderabad, our experts will guide you regarding the various digital marketing services that we offer and will guide you through the entire process.
The most difficult part of making a decision regarding availing the digital marketing services for your startup is to figure out how much capital you will need to build a strong digital marketing campaign base. In this blog, we will talk about the different aspects that should be considered before planning a marketing budget for your startup.
Gauge & Estimate Your Revenue – Before making any decision, it is important to calculate the complete revenue of your company, the projected revenue, your bracket amounts, and finally, decide on how much you can allocate for your digital marketing budget. By planning out all the expenses and the revenue, you will have at least an approximate idea on how much amount you can spend on the digital marketing services. Reports say that on an average, most businesses spend up to 11% of their company revenue for their marketing services, however, the figures may change depending on the field & industry. Furthermore, if you are new to the battlefield, then you might have to increase the numbers a bit in the beginning.
Set Your Goals – After you have a clear idea of your revenue and income, you should start setting up your goals. Regardless of whatever choice you make, you need to set up your goals. You have to start by deciding if you are looking for long-term or short-term goals. You have to make a note of what kind of results are you exactly looking for by availing the digital marketing services. For example, you need to decide if you need 100 new customers every month or do you want a huge revenue in return. This is important so that you can accordingly choose the services for creating brand awareness, for lead generation, etc.
Create A Proper Website – After all, we are talking about digital marketing. So, you need to have a proper website that provides all the information about your company, your products, your services, etc., attracts the customers, engages them, and helps you stay on top of the competitive game. If you have an in-house competent web designer & developer, that's great news. Else, you will have to hire someone to do it for you. At BOXFinity, a popular web designing company in Hyderabad, our web-savvy experts will design and develop an attractive & responsive website for you as per your requirements & preferences to capture the user's attention and engage them for better conversions, in a budget.
Social Media Marketing – It is all about promoting your website on the social media platforms. There is a myth that to promote your business well, you should be on every social media platform like Facebook, LinkedIn, Instagram, Twitter, Pinterest, Tumblr, Google+, etc. But that's not really true. Depending on your goals, you can choose a few relevant social media platforms that target your audience and, allocate your budget accordingly. Our techno-marketers at BOXFinity provide precise social media marketing services to target the right audience and increase your web traffic.
Content Marketing – Heard the phrase, "Content Is The King"? Unlike the social media myth, this saying stands true. Your website is full of content, the social media needs content, email marketing needs content and, almost everything for digital marketing needs content. So, having precise, consistent, and high-quality content is mandatory to attract the attention of the relevant users and bring in enough web traffic. Although initially, content marketing may take up a relatively lesser budget, in the long run, it is important and may call for more budgets.
There are many more things that you may need to consider before you finalize on your budget for the getting the right digital marketing services for your startup. You can talk to a professional and learn more about the services and how they will help you. At BOXFinity, one of the renowned lead generating companies in Hyderabad, we will explore well about your requirements and, we will chalk out a suitable digital marketing plan for you at the most considerable budget. So, get started now to avail of the right digital marketing services for your startup and, see it grow well.