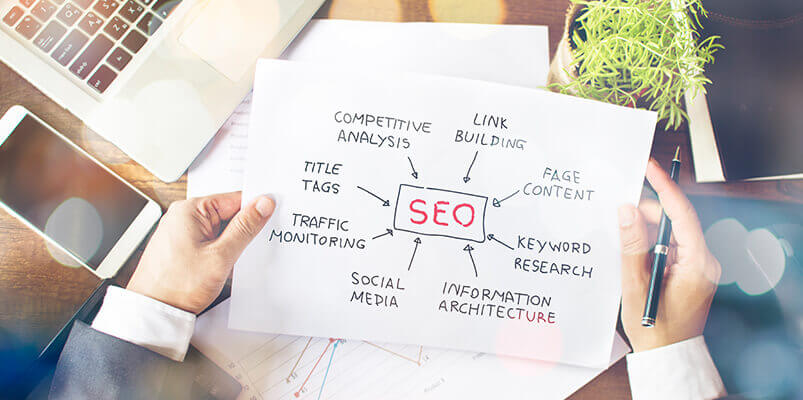 On one hand, most people might assume that digital marketing is all about running ads, PPC services, and spending money on every possible way to bring in more traffic, leads, and for conversions. But on the other hand, most marketers consider content & SEO to be the real titans of all the modern digital marketing solutions. Though there is a lot of acceptance to this statement, SEO & content marketing are seldom spoken together as if they don't fit each other. But the fact is that content marketing & SEO are like peanut butter & jelly – they hold their own importance if alone, but when combined, it's a feast, and so peanut butter & jelly sandwiches are so popular.
Although content is important for digital marketing , content & SEO complement each other more & fit each other in a much better way. In fact, when combined well using the right tactics & strategies, they are like a match made in heaven that works in harmony to bring in more website traffic. The best way to a successful content marketing is to have SEO, and vice versa. Unlike the common notion where SEO & content marketing has been disconnected, it is high time the digital marketers start connecting both these digital marketing services to grow your qualified web traffic.
How Do Content Marketing Services & SEO Services Fit?
Very commonly, the content marketing & SEO are viewed as 2 independent digital marketing services, and that disconnection has been a hurdle for many marketers. But to get the best out of both these digital marketing strategies, you will have to integrate them and make sure they work in accordance. Although there could be quite a few distinguishing features in between content marketing services and SEO services, the primary elemental distinction is that SEO is a narrow, but a more technical approach, whereas, content marketing is a more broader & comprehensive approach. Nevertheless, it can be integrated in the most rational way. SEO can be carried out in a broader approach by channeling its technical aspects into content marketing, and on the other hand, content marketing can be successful when the right SEO techniques will be implemented.
The demands made by SEO can be met by using the right content marketing strategies. It may sound like a cliché, but the fact is that 'Content Is King'. There is no SEO without content since SEO is all about keywords, articles, blog posts, forums, etc. SEO is full of content and obviously, content marketing is also all about content. Practically, the requirement of SEO is content, which is the substance of content marketing. So, if SEO says 'need content', content marketing reciprocates with a 'Done'!
Undoubtedly, and without a single argument, one would agree that keywords are the essence of SEO services – the fundamental tasks of which include researching about the keywords, putting them in the right place, and tracking down the ranking. When all this research about the keywords in funneled through the right channel and practically put to use, it becomes content marketing because your keywords can be put to use strategically only through content. Content marketing includes putting up high-quality content inserting the targeted keywords giving top-notch information to the readers. However, if you think it is smart to stuff your keywords & over optimize your website, Panda is going to be unforgiving & pin down your pages. So, it is essential that SEO & Content Marketing are done in the right way to retain the harmony in between these elemental aspects of digital marketing services.
There is a lot more to how SEO and Content marketing are the best fit for a digital marketing strategy to work out as planned successfully, which will come up soon in our blogs. For all of this blog, the conclusion is that the requirements of SEO are fulfilled by content marketing. The right digital marketing agency will study all your requirements & work according to it. At BOXFinity, a premium digital marketing agency in Hyderabad, our techno-marketers work by implementing the right digital marketing strategies that are the most suitable to improve the online presence of your website & to improve the overall business prospects.