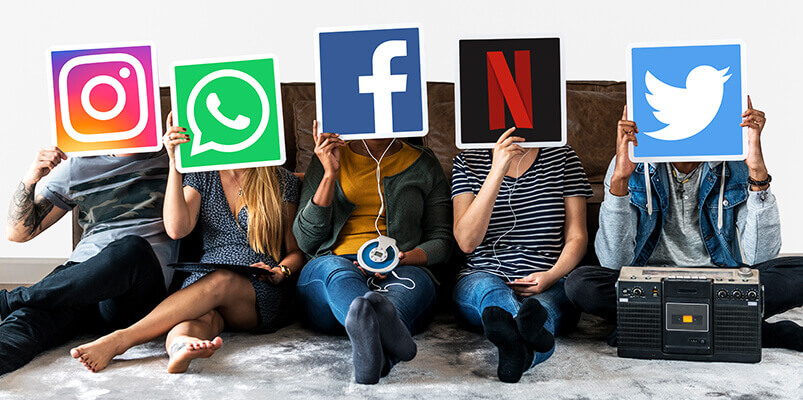 Social Media is probably as vital as basic necessities in most parts of the world to many. With the advances in technology & the rapidly increasing online marketing atmosphere, social media has become essential for most businesses to mark its presence in the marketplace. With almost 2.34 billion people resorting to using some form of a social media network, it has become a place where most businesses are investing in so that they can mark their presence & also enhance your brand awareness. As a consequence of this, most businesses are working towards implementing various digital marketing services, especially social media services to improve their online presence. In this article, we talk about a few cues to put your business in the major league & prove social media marketing to be a smart investment.
Use Your Colors Well – If you have a business website, apparently you'll have a logo for it. To create a brand in itself, you can use the logo color palette frequently to represent your brand name. Emphasizing on using your logo colors for your social media services along with for other digital marketing services too could be a great move. So, if a visitor happens to see your post, they will instantly relate your brand to it with just the color palette & the associated color choices.
Use Media Forms – Having a lot of content-based posts all the time is not very attractive to most users & with time they may lose interest in it. Successful social media services involve using different media forms like GIFs, videos, photos, images, etc., may keep the visitor engaged on your social media page. According to a Forbes report, almost 50% of Facebook users spend time watching videos, and so, it is pretty much evident that people are undoubtedly going to watch a lot of videos on social media in the next few years. Adding videos with great visuals & relevant information could be a great move to add value to your social media profiles.
Broaden Your Social Media Reach – Social media is a huge platform, social media services are a vast sphere containing many channels catering to different genres of audiences. Depending on the kind of return you are looking for or the type of audience you wish to cater to, you can choose the most suitable social media channel. And to choose the right network, you will have to explore all the channels and understand how they work & the kind of audience they target and choose the most suitable approach.
Amalgamate With Your Website – If you haven't integrated the social media pages of your website with that of your business website, then you are probably missing out on many ways on connecting & engaging with your users. When you incorporate the links of your business's social media profiles on your website, it helps visitors to connect & visit your social media pages quickly & directly without having to search for it, and this could increase the traffic to your social media profile too.
Stay Active – Having too many things in your basket could be a bit of confusion at times. A little distraction and you could forget posting on your social media profile. But missing out from your social media profile for a while could be as bad as a death kneel in this rapidly growing online world. Most social media networks come with automated programs using which you can schedule your posts beforehand, and so, there is no fear of missing out.
There are a lot more to social media services & social media marketing that could help your business flourish in the online marketplace. We will follow up with a few more tips & tricks in one of our next few blogs. At BOXFinity, a renowned digital marketing agency in Hyderabad, our techno-experts will study your business & will work on implementing the right social media services for your business to create brand awareness, to increase the traffic, for better conversions, and for the overall improvement of your business prospects.