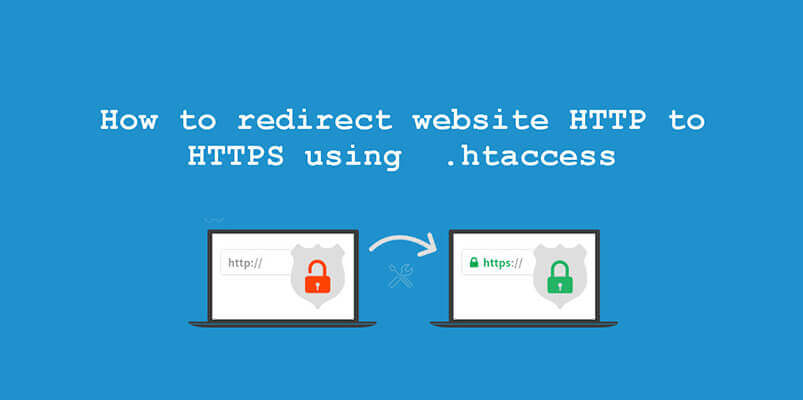 With so many diverse uses of the internet in almost every field of life today, it is difficult to imagine a few minutes without it. With this extreme dependency, comes its own risks. Online security has become an important concern on the international platform & is an essentially important factor for businesses of every size & genre. To start with, the initial & basic step that needs to be taken by the businesses or for that matter, by any website owner is to migrate to a more secure connection. Many businesses rely on consumer trust, & they stand tall as the essential nuts & bolts of the infrastructure. It is the job of the businesses to protect the customer data & other sensitive information, and the most common forms of online security encompass executing website solutions to drift from HTTP to HTTPS hosting & implementing SSL protocols.
Not every person is aware of the techniques that go behind securing a website, and so it is better to entrust the job of entailing the secured connection via imposing the SSL protocols & shifting to HTTPS hosting, to professional web designers & developers. At BOXFinity, a renowned digital marketing agency in Hyderabad, we work with the top web designers in Hyderabad. They will study your website in detail and will put to use the appropriate website solutions to secure your website. In this blog, we give an outline of the steps that go behind securing a website and to convert it from HTTP to HTTPS hosting.
Gather & Layout All The Details - Before you spend your money on the SSL certificate & securing your website, you need to start by laying down a few details like - Is your host ready to deliver an HTTPS website? Is it the peak sales season for your business? Is your team ready for the switch? Once you are convinced that every bit of it is in your favor, you can go ahead and get the SSL certificate.
Purchase & Get Your SSL Certificate - Concisely, SSL stands for 'secure socket layer', which is a method to encrypt & authenticate online data & traffic. More often than not, the SSL certificates are sold by the website hosts, and many a time they do most of the configuration also for you. You can either choose a standard SSL certificate or an expensive one depending on your website structure, your business services, the budget, & the other business requirements.
Set Up Hosting With The SSL Certificate - Although most web hosts may configure the settings for you, it might not be the case with few. At such times, you will have to generate keys from the SSL Certificate seller & paste them on your host's C-panel. There might be times when you might get hassled, and it makes sense to seek help from Support. Once done properly with the configuration process, you will have to clear your cache & you shall no longer receive warning messages or invalid certificate messages. If the website is not configured properly for HTTPS connection, you might get redirected back to the HTTP website. So, it is better to either hire a digital marketing agency, where the professional web designers & developers will implement the right & suitable web solutions to convert your website from HTTP to HTTPS, or you could ask for help from the host support. However, before you do any of it, it is important that you take a full backup of the website.
Shift All The Links To HTTPS - It could be a daunting task to change all the links on the website to HTTPS, and that is where the right web solutions, especially the CMS web design services & strategies come into the scenario. Assuming that your SSL certificate has been set up well, you can start off by fixing the non-CMS generated links & change them to the relative link paths starting with a "/". Once done with generating the CMS links, refresh, check for cache issues, test the links, look in the Console for any errors, & fix them.
Create 301 Redirects From HTTP To HTTPS
In a nutshell, a 301 Redirect is a way of redirecting the traffic from one URL or webpage to another. If your website's search engine ranking is because of the number & quality of the backlinks, it can be affected by this migration. Since the switch from HTTP to HTTPS is likely to be a permanent shift, the redirection could also be a permanent process. This is important as your website might have plenty of backlinks from external sites to the HTTP version of your website, and they will be now redirected to the HTTPS version.
Having to shift your website from HTTP to HTTPS could be a Herculean task. To help you out with it, Google has even put up an online guide that reveals its recommended process. If you still find it difficult, you can ask help from support or, even better, get a professional website design company that offers great web development services & website solutions, to do the part for you. With so much of help available across, and with the extreme security offered by the HTTPS hosting, there is no excuse to not make the switch.
There are plenty of factors that should be considered while presenting a safe website to your users, and migrating to a secured HTTPS connection is one big & proven way of securing your website. When your website has an HTTPS hosting, it not only reassures the visitors but also help improve your website rankings as Google considers HTTPS to be an influential ranking factor. At BOXFinity, a prominent digital marketing agency in Hyderabad, our web designers will implement the right protocols to convert your website to a more secure place with HTTPS hosting. So, make your website a secured one with the website design services from our top website designers in Hyderabad, and win the trust of your visitors in a much finer way.