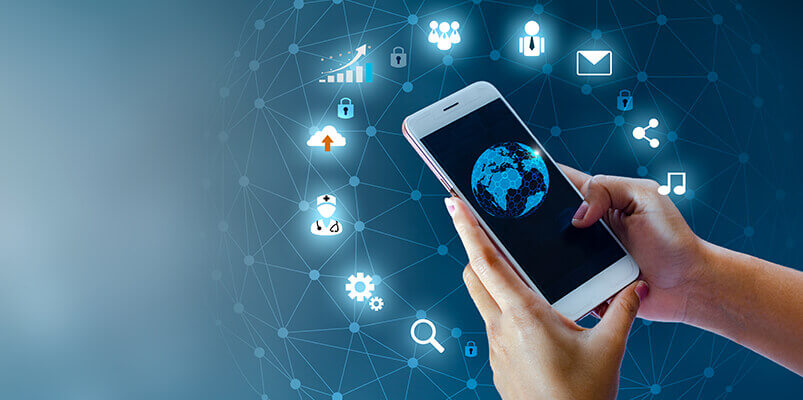 As time is progressing, the scenario of the digital marketing trends is also progressing accordingly, leading to a dramatic shift in many areas like SEO, social media, content marketing, PPC, etc., which can no longer be ignored by the businesses. Everything in the world today runs on technology that is evolving constantly, and if you do not keep up with the pace, you are longer in the race. The techniques that could have worked wonders earlier, may no longer work now. And so, it is essential for the marketers to stay updated with the latest tech trends, & advancing digital marketing technology.
Gone are those days when artificial intelligence was just another blockbuster sci-fi movie gimmick. Digital marketing is no longer just the simple old AdWords game but has evolved with more elaborate campaigns across multiple platforms & channels. There are many new changes and updates in the digital marketing services, and it is crucial to put in a lot of efforts to figure out how they can help you and your business to succeed. Although there are many to mention, here in this blog, we bring to you just a few new trends that we think should not be ignored by the businesses to stay in the game.
Omni-Channel Approach – As mentioned above, digital marketing is no longer just limited to running Google AdWords campaigns. The new digital marketing trends demand consistent work at various touch points and across different channels. Having a multi-channel approach could help in integrating your brand name and message across multiple channels, to target the same prospective audience. This strategy could help in accelerating the velocity down the pipeline and help in better conversions.
Using Artificial Intelligence – AI is known to play a crucial role in the online marketing process. It can help to a great extent in understanding the search patterns, analyzing the customer behavior, utilizing the relevant data from various platforms, and helping the businesses to understand how the prospective customers can find & use their products & services. Reports suggest that by 2020, almost 85% of the interactions will be managed by AI, and not by a human.
Chatbots – Being one of the most influential trends in digital marketing , the chatbots are an AI-based technology that works in IM format for real-time chat with your visitors or customers, at any time. Having a chatbot on your website, or on your social media pages, will allow the businesses to meet the rising customer demands and enable instant & smooth communication with the customers, and many businesses are using this feature already. By using the chatbot virtual assistant technology, many companies have been successful in offering eminent customer service, retaining customer chat information, so that is easy to interact well every time with the users, automating all the repetitive tasks, and meeting the expectations of the customers.
Influencer Marketing – Expanding exponentially in the past few years, influencer marketing is one trend that is growing in popularity like never before. It is a way of marketing where key leaders, called influencers get the word about your business to a relatively large group of potential customers. Influencer marketing has proven to be a competent marketing tool that has been effective in drawing the attention of the users, interacting with them, engaging them, and influence the audience by building a positive image about the brand. Influencers can be anyone – right from celebrities, popular journalists, to YouTube stars, who will spread the word about your business on various platforms like social media, etc.
Social Media – Social media now is not just about sending emojis to friends & family. According to the stats, on a monthly basis, Facebook Messenger & Whatsapp have 1.3 billion active users each, YouTube has 1.5 billion active users, and Twitter has 328 million active users. These numbers show how the social media networks are rising in their popularity amongst the users, and so, it makes great sense to market your business at a place where a lot of potential customers are hanging out.
Personalized Content – Making it personal is going to make the customer feel wanted & important. Personalization has now become a major feature of digital marketing services, and as time progresses, it is going to become a vital aspect to ensure the satisfaction of the customers. The power of personalization extends from customizing the campaigns, emails, and other digital marketing strategies based on the user behavior, their interests, and the relevant demographics. At BOXFinity, a leading digital marketing agency in Hyderabad, our techno-marketers work to understand the user behavior depending on their interests & choices and will scheme out a customized strategy plan, rather than following the 'one-size-fits-all' concept.
Visual Search – Anything that catches your attention first is bound to leave a lasting impression. Putting up pictures, images, and other such eye-catching content to promote your business, products, or services could help in bringing in more specific results. Pinterest is one of the common visual search engine networks where you can upload a picture depicting your company's work and draw the attention of users who are interested in your products or services. Apart from Pinterest, there are a few other popular visual search engines like Bing Visual Search, Google Lens – a visual search tool, etc. Most marketers seem to have a higher hand than their competitors after they took the visual search plunge.
Voice Search – With the search engines providing quick answers to almost all your questions, people no longer prefer going through all those long paragraphs. The current digital era is a favorite of many as it provides comprehensive information within seconds. With AI getting smarter, voice search has become one of its features that have grabbed the attention of many users. With the main voice search assistants like Siri, Alexa, & Google in the market, getting answers to your questions is now easy, and they come with regular improvements to decrease the error margin.
It's hard to get to the top of anything right at the beginning. It takes sincere efforts, a lot of strategic planning, and tons of patience to make things happen your way. Keeping yourself updated with the new tech trends is one way of staying above your competitors in the battlefield. At BOXFinity, one of the renowned lead generation companies in Hyderabad, our techno-marketers study& incorporate various advanced strategies according to the user interest & experience with the aim to improve your overall business prospects.